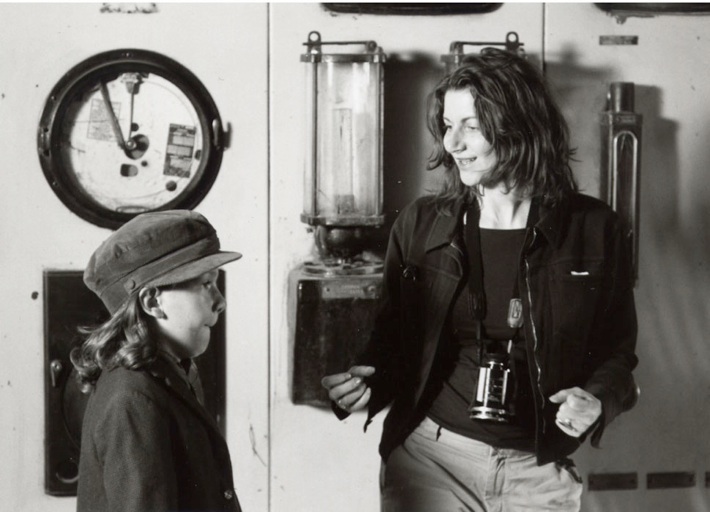 Su Rynard and Jacob Switzer
FEATURE FILM
MOSQUITO – documentary feature, HD, 2017, 84 minutes
Produced by YAP Films for Discovery USA.
THE MESSENGER – documentary, DCP, 2015, 89 minutes
A Canada France Co-production. Produced by SongbirdSOS Productions Inc. & Films A Cinq
KARDIA – dramatic feature, 35mm film 2005. 85 minutes
Distribution Maple Films (Canada) Sales: Shoreilne Entertainment (USA).
Produced with the assistance of Telefilm Canada.
DREAM MACHINE – documentary, video, 2000. 76 min.
Produced by: Peter Starr, The National Film Board of Canada
FILM & VIDEO WORKS
AS SOON AS WEATHER WILL PERMIT – video installation and HD projection, 2013, 15 minutes
DROWNING LONDON– video installation, HD video, animation 2010. 1 minute loop
Exhibited Paul Petro Special Projects, Toronto
APPLES (malus domestica) – two channel projection installation, super 16mm film & HD video, 2009. 6:45 min loop
Exhibited Paul Petro Contemporary Art, Toronto
CORONATION PARK
16mm film transferred to HD video, 2009. 1 minute
MOSHE HAMMER – classical music video, 35mm film / video (2004), 6 minutes. Featuring: Moshe Hammer, Produced in association with Bravo!
BEAR – short, 2004. 10 mim. Video loop
Premiered: WRO 05 11th International Media art Biennale, Wroclaw, Poland
BUG GIRL – short film / video installation, 2003. 6 min.
Premiered; 'Perspective 2003', Ormeau Baths Gallery, Belfast. Award Winner Creative Vision Earth Dance Film Festival. The Oakland Museum of California, USA
THE DAY JESUS MELTED – short fiction / experimental, video, 1999. 3 min.
Premiered: Sarajevo Film Festival, Madrid Experimental Film Festival
STRANDS – drama, 16mm film, 1997. 23 min.
Featuring: Stephanie Morgenstern, Lisa Ryder, Arsinee Khanjian, Boyd Banks
Written by: Trishia Fish, Shelley Eriksen. Produced by: Hadley Obodiac, The Canadian Film Centre, 1998 Silver Award winner Worldfest Houston
EIGHT MEN CALLED EUGENE – experimental film / video, 1996. 12 min.
Featuring: Hadley Obodiac. Premiered: Toronto International Film Festival 1996
Big deal So what – drama, 16mm film, 1995. 25 min.
Featuring: Sheila Heti, Jane Spidell, Amanda Stepto, Written by: Su Rynard,
Produced by: Hadley Obodiac. Broadcast CBC & WTN.
Signal – video art, 35mm film / video, 1993. 3 min.
Award winner, Best Editing 1994 Mediawave Festival Hungary, Best Short Cabbagetown Film and Video Festival. Award Winner, Washington DC , Video Shorts Competition
Sexual Healing – documentary, video, 1995. 26 min..
Co-directed with Kathleen Maitland Carter, Produced for WTN.
1996 Nomination for M. Joan Chalmers Documentarian Award for Film & Video
What Wants To Be Spoken, What Remains To Be Said – drama, 16mm, 25 min. Featuring: Nancy Beatty. Written by: Helen Humphreys. Broadcast CBC.
Le Voyage Du Chaman / The Shaman's Journey – dance video, 16mm/video. 1990. 9 min,
Featuring: Raoul Trujillo, Produced by: Michelle Ouelette / Cine Qua Non Films
KISS CLOSED MY EYES – music video / documentary, 16mm/video, 1996. 7 min.
Featuring: Laurel MacDonald, Produced in association with Bravo!
1932 – video art, 1988: 9 min.
Exhibited: National Gallery Of Canada
Within Dialogue (Silence) – video art, 1987 5 min.
Exhibited: Museum of Modern Art, NY
Absence – video art, 1986, 5 min.
Exhibited: Hara Museum of Contemory Art, Toyko. Museum of Modern Art, Budapest, Hungary. 49th PARALLEL, New York, USA
LIST OF SCREENINGS & EXHIBITIONS
2017
Toronto: Tributes + Tributaries, 1971-1989, Art Gallery of Ontario, Absence
2016
IMAGINE SCIENCE TOURING PROGRAM, Wofford College South Carolina, International House Philadelphia, USA: As Soon As Weather Will Permit
VIDEO FOREVER curated by Paul Ardenne, Musée de la Chasse et de la Nature, Paris: Drowning London
ART SPEAKS OUT iKono TV ArtCOP21, Copenhagen: Bear, Drowning London. Travelling exhibition to Viva Con Agua Hamburg and TILL It's GONE Istanbul Modern
2015
ART GALLERY OF ONTARIO, Toronto, Canada. "Camera Atomica" (screening in conjunction with exhibition): As Soon As Weather Will Permit
IMAGINE SCIENCE FILM FESTIVAL, New York USA & Paris France: As Soon As Weather Will Permit
MILL VALLEY FILM FESTIVAL, California, USA: The Messenger
VANCOUVER FILM FESTIVAL, B.C. Canada: The Messenger
CALGARY FILM FESTIVAL, Alberta, Canada: The Messenger
REYJKAVIK FILM FESTIVAL, Iceland: The Messenger
BERGEN INTERNATIONAL FILM FESTIVAL, Bergen, Norway: The Messenger
HOT DOCS International Documentary Film Festival, Toronto, Canada: The Messenger
CINEMAMBIENTE, Turino, Italy: The Messenger
BIFED International Festival of Ecological Documentary, Turkey: The Messenger
JACKSON HOLE FILM FESTIVAL, Wyoming USA: The Messenger
HOT DOCS – International Documentary Film Festival, Canada: The Messenger
IFFR – Rotterdam International Film Festival, The Netherlands: As Soon As Weather Will Permit
THE CARLETON UNIVERSITY ART GALLERY (Ottawa), KENDERDINE ART GALLERY (Saskatoon) "Human Nature" Curated by Corinna Ghaznavi. Intallation: As Soon As Weather Will Permit.
RIFF – Rotterdam International Film Festival: As Soon As Weather Will Permit
2014
RIDM, Recontres Internationales Du Documentaire De Montreal, (Montreal Intl. Documentary Festival) As Soon As Weather Will Permit
V/TApe EVENTS, Toronto, Canada: As Soon As Weather Will Permit, Sept-Oct
British Documentary Film Festival, London UK: As Soon As Weather Will Permit. London UK
PAUL PETRO CONTEMPORARY ART. Toronto, Canada: Anthroprocene (installation)
MUSEUM LONDON. "Animal" Curated by Corinna Ghaznavi. London Ontario: Bear (travelling exhibition) KENDERDINE ART GALLERY, Saskatoon, Sask. Robert McLaughlin Gallery. Oshawa, On. DALHOUSIE ART GALLERY, Nova Scotia.
PAUL PETRO CONTEMPORARY ART. Toronto, Canada. SEED BANK (photography/installation)
2012
ROBERT McLAUGHLIN GALLERY. "Animal" Curated by Corinna Ghaznavi. Oshawa, On. Bear
DALHOUSIE ART GALLERY. "Animal" Curated by Corinna Ghaznavi. Halifax, NS. Bear
2011
PAUL PETRO CONTEMPORARY ART. Toronto, Canada.  SEED BANK (photography)
MUSEUM LONDON. "Animal" Curated by Corinna Ghaznavi. London Ontario. Bear (travelling exhibition) KENDERDINE ART GALLERY. "Animal" Curated by Corinna Ghaznavi. Saskatoon, Sask. Bear

2010
EX-IS Experimental Film and Video Festival, Seoul Korea. The Day Jesus Melted
ESPACE VIDEOGRAPHE, Canada The Day Jesus Melted
GALLERY LAMBTON  "Art and Ideas", Canada. The Day Jesus Melted
Parkdale Film + Video Showcase, Toroto, Canada. Coronation Park, Drowning London (video installation)
evergreen brick works. Toronto, Canada. Bear, Coronation Park
2009
PAUL PETRO CONTEMPORARY ART. Toronto, Canada. Malus Domestica (video installation)
PAUL PETRO SPECIAL PROJECTS. Toronto, Canada. Drowning London (video installation)
SOFT SCIENCE curated by Rachel Mayeri, touring: University of California San Diego, Manchestor Metropolitan University UK. Syracuse University NY, Wesleyan University CT, Hong Kong Baptist University HK, University of Illinois at Chicago: Bug Girl
2008
TUFF. Toronto Urban Film Festival: Coronation Park
OTTAWA ART GALLERY, ART GALLERY OF PETERBOROUGH, ART GALLERY OF SUDBURY, KITCHENER-WATERLOO ART GALLERY, ART GALLERY OF WINDSOR, "Analogue: The Days Before Digital 1968-1988" touring exhbition: Untitled: A Tape About Memory
ED VIDEO MEDIA ARTS CENTRE "Man vs. Nature" Guelph On: Bug Girl
2007
TATE BRITIAN and MOCCA (Museum of Canadian Contemporary Art). "Analogue: The Days Before Digital 1968-1988": UK (2006) and Toronto (2007): Untitled: A Tape About Memory
25TH FAJR INTERNATIONAL FILM FESTIVAL, Tehran: Kardia
SEDONA INTERNATIONAL FILM FESTIVAL, Arizona USA: Kardia
FABULOUS FESTIVAL OF FRINGE FILMS, Durham Art Gallery, On: Bug Girl
HAMILTON MEDIA ARTS CENTRE 'The Factory-Man vs. Nature', Hamilton, On: Bug Girl
THE HORSE HOSPITAL, COLONNADE, BLOOMSBURY, LONDON. Rural Route Film Festival Tour: Bear
DAWSON CITY INTERNATIONAL SHORT FILM FESTIVAL, Rural Route Film Festival Tour: Bear
REHAB, Parkdale Film & Video Showcase, Toronto: Bear
SOFT SCIENCE. Touring video exhibition: Carnegie Mellon University, University of Leeds UK, UCLA, California College of the Arts, University College for the Creative Arts at Farnham: Bug Girl
2006
PAUL PETRO CONTEMPORARY ART, Toronto, Canada. Bear (video installation)
CARDIFF FILM FESTIVAL, Wales UK: Kardia
HAMILTON ART GALLERY, AGH Film Series, Canada: Kardia
REHOBOTH FILM FESTIVAL, Delaware, USA: Kardia
NORTHUMBERLAND FILM FESTIVAL, Cobourg, Canada: Kardia
FILM CIRCUIT TOUR, facilitated by Toronto International Film Festvial Film Circuit: Salmon Arm BC, Haliburton On: Kardia
SCINEMA 2006, 6th International Festival of Science Film, Sydney Australia: Kardia. WINNER. BEST NARRATIVE FILM
CANADIAN IMAGES FESTIVAL, Sudbury Ontario: Kardia
CALGARY INTERNATIONAL FILM FESTIVAL, AB: Kardia
SCOTTSDALE INTERNATIONAL FILM FESTIVAL, Arizona USA: Kardia
HERLAND FEMINIST FILM & VIDEO, Calgary, AB. Bear
SHANGHAI INTERNATIONAL FILM FESTIVAL, China: Kardia
RURAL ROUTE FILM FESTIVAL, Anthology Film Archives New York City USA + USA tour: Bear
EARTHDANCE: A Short-Attention-Span Environmental Film Festival, Oakland Museum of California, Oakland USA. Bug Girl. AWARD WINNER "CREATIVE VISION AWARD"
THE CANADIAN FILMMAKERS FILM FESTIVAL, Toronto, On. Kardia
MOUNT HOLYOKE College, sounth Hadley, MA. "Soft Science". Bug Girl
THE TORONTO NEW WORK SHOW curated by Pleasure Dome, Toronto, Canada. Bear ( video installation)
CONVERSATIONS AT THE EDGE Gene Siskel Film Center, Chicago; FOREMAN ART GALLERY Bishop's University; BOWDOIN COLLEGE MUSEUM OF ART, Maine; UNIVERSITY OF ABERTAY, Dundee; MOUNT HOLYOKE College, South Hadley, MA; CUNY Graduate Center's Science and the Arts Program, New York USA "Soft Science". Bug Girl
2005
11TH BIENNIAL OF MOVING IMAGES, Geneva Switzerland. Bear
INSTITUTO ITAU CULTURAL San Paulo Brazil; THE DANIEL LANGOIS FOUNDATION, Montreal Quebec;. PACIFIC FILM ARCHIVE, "Natural History", Berkeley, CA "Soft Science".
HERLAND FEMINIST FILM & VIDEO, Calgary, AB. Bug Girl
HAMPTONS INTL FILM FESTIVAL, Canada. Kardia. AWARD WINNER.: ALFRED P. SLOAN FILM PRIZE
VANCOUVER INTL. FILM FESTIVAL, Canada. Kardia
PLANET IN FOCUS, Environmental Film Festival, Toronto. Bear
ED VIDEO Media Arts Centre, Guelph, On. The Day Jesus Melted
Media Forum MOSCOW INTERNATIONAL FILM FESTIVAL, 2005. USSR. Bug Girl
FESTIVAL DE CINEMA DES 3 AMERIQUES, Quebec. Bug Girl
REHAB, Parkdale Film & Video Showcase, Toronto, Bug Girl
WRO 05 11th International Media art Biennale, Wroclaw, Poland, Bear
MEDIAWAVE FESTIVAL, GYOR HUNGARY. Signal, Moshe Hammer
2004
ROGUE ART / ANTIMATTER FESTIVAL OF UNDERGROUND FILM & VIDEO. Victoria, BC. Bug Girl
LA FILM FORUM Egyptian Theatre "Soft Science" Los Angeles, CA . Bug Girl
ARTCITE, INC. Windsor, On. Bug Girl (video installation)
2003
PERSPECTIVE 2003, Ormeau Baths Gallery, Belfast: Bug Girl (installation)
PLANET IN FOCUS, Environmental Film Festival, Toronto: Bug Girl, repeat program 2006
PACIFIC FILM ARCHIVE, Berkeley California: Bug Girl, Eight Men Called Eugene
AURORA PICTURE SHOW. Houston Texas. "Gene Genies" Bug Girl, Eight Men Called Eugene
VIEWING CHANGE/CHANGING VIEWS, Ottawa, On. The Day Jesus Melted
2002
NEUES KINO Basel, Basel Switzerland: The Day Jesus Melted
REHAB, Parkdale Film & Video Showcase, Toronto, The Day Jesus Melted
MOVIEOLA STORNAWAY Com, Toronto. The Day Jesus Melted
NXNE Music & Film Festival, Toronto: Dream Machine
HENRY ART GALLERY, University of Washington, Gene(sis): Contemporary Art Explores Human Genomics. Seattle: Eight Men Called Eugene
2001
AVAILABLE LIGHT. CHANNELING HISTORY: REMEMBERING IMAGES: Ottawa: What Wants To Be Spoken, What Remains To Be Said
ST. JOHN'S WOMEN'S FILM & VIDEO FESTIVAL: Newfoundland, The Day Jesus Melted
METRO CINEMA: Edmonton Alberta, Dream Machine
HAMBURG INTERNATIONAL SHORT FILM FESTIVAL: Germany, The Day Jesus Melted
V is for VIDEO: RETROSPECTIVE. Touring exhbition.
MK2 BEAUBOURG, Best of Sarajevo Film Festival, Paris: The Day Jesus Melted
PHOTOPHOBIA FILM & VIDEO FESTIVAL, Art Gallery of Hamilton: The Day Jesus Melted
OTHER CINEMA/ATA GALLERY: San Francisco, CA U.S.A., Eight Men Called Eugene
OPEN SPACE, Mapping the Body, Victoria B.C. Eight Men Called Eugene, Within Dialogue, Signal
2000
DUNLOP ART GALLERY, Space Camp 2000: Uncertainty, Speculative Fictions and Art, Regina Sask.: Eight Men Called Eugene
THE MADRID EXPERIMENTAL FILM FESTIVAL, Spain: The Day Jesus Melted
CINEMATEQUE ONTARIO, The Independents, Toronto: The Day Jesus Melted
MEDIATED BODY / WIRED BODY, Goethe Institut, Toronto: Eight Men Called Eugene
SARAJEVO FILM FESTIVAL, Bosnia-Herzegovina: The Day Jesus Melted
NEW TORONTO WORKS, Pleasure Dome. Toronto, Canada: The Day Jesus Melted
DIGITAL EARTH, Vancouver Canada: Eight Men Called Eugene
HARVARD FILM ARCHIVE, Boston, USA: Eight Men Called Eugene, Signal, Strands,The Day Jesus Melted
WINNIPEG FILM GROUP, Canada: Eight Men Called Eugene
GOETHE INSTITUT, Canadian Currents, Toronto, Canada: Signal
LA CENTRALE, "Life Tests," Montreal, Canada: Within Dialogue (Silence), Signal, Eight Men Called Eugene, Strands
NELSON – ATKINGS MUSEUM OF ART, Electromediascope, Kansas, MO: Strands
METRO CINEMA, Edmonton, Canada: Eight Men Called Eugene
FILMVIDEO 99, Genova, Italy: Strands
911 MEDIA ARTS CENTRE, Washington, USA: Eight Men Called Eugene, Signal, Strands
GENERALI FOUNDATION, Wein, Austria: Signal
1999
HARVARD FILM ARCHIVE, Boston, USA: Eight Men Called Eugene, Signal, Strands,The Day Jesus Melted
WINNIPEG FILM GROUP, Canada: Eight Men Called Eugene
GOETHE INSTITUT, Canadian Currents, Toronto, Canada: Signal
LA CENTRALE, "Life Tests," Montreal, Canada: Within Dialogue (Silence), Signal, Eight Men Called Eugene, Strands
NELSON – ATKINGS MUSEUM OF ART, Electromediascope, Kansas, MO: Strands
METRO CINEMA, Edmonton, Canada: Eight Men Called Eugene
FILMVIDEO 99, Genova, Italy: Strands
911 MEDIA ARTS CENTRE, Washington, USA: Eight Men Called Eugene, Signal, Strands
GENERALI FOUNDATION, Wein, Austria: Signal
1998
NATIONAL GALLERY OF CANADA, Science Series. Ottawa, On: Strands
ANTICIPATION, VERSION 4. Centre Pour L'image Contemporaire, Geneve: Eight Men Called Eugene
MILL VALLEY FILM FESTIVAL, California, USA: Strands
FRAGILE ELECTRONS, National Gallery of Canada, Ottawa, On: Signal
TECHNOLUST FESTIVAL, Antwerpen, Belgium: EightMen Called Eugene
PACIFIC CINEMATEQUE, Vancouver B.C.: Eight Men Called Eugene
OBERHAUSEN 44th Intl. Short Film Festival, Germany: Eight Men Called Eugene
MEDIA CITY, ARTCITE. Windsor, On. Within Dialogue (Silence), Signal, Eight Men Called Eugene, Strands
WORLDFEST HOUSTON, Texas USA: Strands, SILVER AWARD WINNER
YYZ ARTIST OUTLET, Toronto On: solo exhibition, Within Dialogue, Signal, Eight Men Called Eugene, Strands
CLEVELAND INTERNATIONAL FILM FESTIVAL, Cleveland Ohio: Strands
VIDEO ART PLASTIQUE, Transat Video, France: Eight Men Called Eugene
CINEMATEQUE ONTARIO: Signal
1997
BRNO super8/16mm Film Festival, Czech Republic: Eight Men Called Eugene
8th ST. JOHN'S INTERNATIONAL WOMEN'S FILM FESTIVAL, Newfoundland: Eight Men Called Eugene
VANCOUVER INTERNATIONAL FILM FESTIVAL, Vancouver: Strands
ATLANTIC FILM FESTIVAL, Halifax, Nova Scotia: Strands
CANADIAN IMAGES FESTIVAL, Sudbury Ontario: Strands
WORLD WIDE VIDEO FESTIVAL, Stedelijk Musuem, Amsterdam: Eight Men Called Eugene
MONTREAL WORLD FILM FESTIVAL, Quebec, Canada: Strands
LONDON REGIONAL ART & HISTORICAL MUSEUM: Signal
SARAJEVO FILM FESTIVAL, Bosnia / Hercegovina: Eight Men Called Eugene
HONG KONG ARTS CENTRE, Hong Kong, China: Eight Men Called Eugene
ROCKEFELLER CENTRE, programmed by the Museum of Modern Art. New York, USA: Signal
TRANSMEDIA VIDEOFEST, Berlin: Eight Men Called Eugene
MEDIAWAVE 97, Hungary: Eight Men Called Eugene
ROTTERDAM INTERNATIONAL FILM FESTIVAL, Netherlands: Eight Men Called Eugene
TAMPERE 27th INTERNATIONAL SHORT FILM FESTIVAL, Finland: Eight Men Called Eugene
1996
VIDEO ART PLASTIQUE Centre d'art Contemporain Basse-Normandie, France: Signal
REEL LIFE WOMEN'S FILM & VIDEO FESTIVAL: Big Deal, So What
OLYMPIA FILM FESTIVAL, Washington USA: Eight Men Called Eugene
CANADIAN NARRATIVES, The Museum Of Modern Art, New York USA: Within Dialogue
TORONTO INTERNATIONAL FILM FESTIVAL, Toronto Canada: Eight Men Called Eugene
FESTIVAL DU NOUVEAU CINEMA, Montreal, Canada: Sexual Healing
IMAGES '96, Toronto, Canada: Sexual Healing
MEDIAWAVE 96, Hungary: Sexual Healing, Kiss Closed My Eyes
ANN ARBOUR FILM FESTIVAL, Michigan, USA: Signal
WINTERFEST National Film Board Of Canada, Montreal, Quebec: Big Deal, So What
PENNSYLVANIA STATE UNIVERSITY: What Wants To Be Spoken
1995
RE-VISIONS WOMEN'S FILM & VIDEO FESTIVAL, Winnipeg, Manitoba: Big Deal, So What
ATLANTIC FILM FESTIVAL. Halifax, Nova Scotia: Big Deal, So What
INTERNATIONALER 5-MINUTEN CUP. Senfteenberg, Austria: Signal
THE CABBAGETOWN FILM FESTIVAL. Toronto: Signal. AWARD WINNER: 1ST PRIZE
THE LINK. Bologna, Italy: Signal
SHIFTING PARADIGMS. Bauhaus Foundation, Dessau, Germany: Signal
CALL OF THE WILD. Walter Philllips Gallery. Banff, Alberta: Signal, What Wants To Be Spoken, The Shaman's Journey, Sexual Healing, Le Voleur.
SHIFTING PARADIGMS. Moltkerei Werstatt Gallery. Cologne Germany: Signal
RE-TOUCH. Art Gender Technology. Public Access Symposium. Toronto. Signal
MCGILL UNIVERSITY, Montreal: Signal
1994
CONTESTED SPACES. Public Access. Union Station Toronto. Navigate (video installation)
PIXART. Montreal Broadcast: Signal
CANADIAN MUSEUM OF CIVILIZATION. Ottawa Ontario: What Wants To Be Spoken
DALLAS VIDEOFESTIVAL. Dallas Museum of Art, Dallas Texas. Signal
SESTA BIENNALE DONNA FESTIVAL. Ferrara Italy: Signal
Centre National d'art Contemporaire. France: 1932
WEXNER CENTRE FOR THE ARTS. Columbus Ohio: Signal
VANCOUVER INTERNATIONAL FILM FESTIVAL: Vancouver B.C. Signal
TORONTO INTERNATIONAL FILM FESTIVAL. Toronto Ont. Signal
VIDEO ART IN QUEBEC & CANADA, travelling exhibition: Canada, India, England, Russia, Mexico: Signal
KIJKHUIS WORLD WIDE VIDEO FESTIVAL, Den Haag Nederland: Signal
MEDIAWAVE '94, Soproni, Hungary Signal AWARD WINNER BEST EDITING
IMAGES '94, Toronto Canada: Signal
Premiere Manifestiation Internationale Video et Art Electronique, Montreal: Signal
VIDEO SHORTS, Seattle, USA: Signal (Award winner. 1st Prize)
1993
FIRST ROMANIAN VIDEO WEEK: Bucharest: Signal
POPULAR FEMINISM, The Centre for Women's Studies in Education OISE. Canada: What Want To Be Spoken
21 Filmfestival der Nationen, Ebensee, Austria: What Wants To Be Spoken
The Media and The Message, ALHFAM Conference. Minnesota History Centre St. Paul, USA: What Want To Be Spoken
Image-Music-Texte, Cinecycle, Toronto Ontario: What Wants To Be Spoken
MacDonal Stewart Art Gallery, Guelph, Ontario: 1932
WHITE WATER GALLERY, North Bay Ontario. 1932, Within Dialogue (Silence) What Wants To Be Spoken, The Shaman's Journey
1992
CENTRE INTERNATIONAL D'ART CONTEMPORAIN, Dialogues: A Selection of Works from the Canada Council Art Bank, Montreal Quebec: Absence
ART GALLERY OF PETERBOROUGH, Peterborough Ontario: 1932, Within Dialogue (Silence) What Wants To Be Spoken, Absence, The Greatest Thing
BASIL ART FAIR, Art Metropole VHS series, Basil Switzerland: Within Dialogue (Silence), Untitled-A Tape About Memory, Absence
FULL SCREEN, Toronto Ontario: 1932
1991
HOT AND COLD. Videokunst aus Kanada Vienna Austria & Landesmuseum, Innsbruck: Within Dialogue
CANADIAN EMBASSY IN TOKYO, Northern Lights, Tokyo Japan: Within Dialogue (Silence)
POST VANGUARD INC., New York USA: 1932
MUU Festival, Helsinki Finland: 1932
MULTIMEDIA Festival, Zagreb Croatia: 1932
MAYFEST Festival, Glasgow Scotland: 1932
PERMUTANT Festival, Video Calleriet Huset, Copenhagen Denmark: 1932
3rd POETRY & IMAGES FESTIVAL, Brandts Klaedeffabrik, Odense Denmark: 1932
WRO 90 SOUND BASIS VISUAL ART FESTIVAL, Wroclaw Poland: 1932
VISTA, Museum of Architecture, Wroclaw Poland: 1932
LA MONDAILE de Films et Videos, Quebec City Quebec: Le Voleur
SILENCE ELLES TOURNENT, Festival de Films et Videos de Femmes, Quebec: Le Voyage du Chaman
BIENNALE INTERNATIONAL DE FILMS AND VIDEOS QUEBEC, Quebec Canada: Le Voleur
1990
THE MUSEUM OF MODERN ART, Video and Myth, New York USA: 1932
THE NEW GALLERY, Close Observations, Calgary Alberta: Within Dialogue (Silence)
THE POWER PLANT, Sound Images Music/Performance Videos, Toronto Ontario: Le Voleur
SCAN 90 VIDEO ART SPRING FESTIVAL. Tokyo Japan: Le Voleur
ENTE AUTONORMO PER LE FIERE DI BOLOGNA BOLOGNA ITALY, Bologna Italy: Within Dialogue
THE MUSEUM OF MODERN ART: Selections from the Video Study Collection. NY, USA:Within Dialogue
MEDIENWERKSTATT WEIN/AKADEMIE DER BILDENDEN KUNSTE. Wien: Within Dialogue (Silence)
FESTIVAL DES FILLES DES VUES. Quebec: Within Dialogue (Silence)
ESPACE LYONNAIS D'ART CONTEMPOR. Lyon, France:1932
1989
FESTRIO 89 International Film, Television and VideoFestival, Rio de Janeiro Brasil: 1932
DELICATE TECHNOLOGY 2ND JAPAN 89 VIDEO TELEVISION FESTIVAL AT SPIRAL, Toyko Japan: Le Voleur
THE 3rd FUKUI INTERNATIONAL VIDEO BIENNALE, Fukui Japan: 1932
UTAH MEDIA CENTER, Utah, WPA Gallery Washington: Within Dialogue (Silence)
NEUTRAL GROUND. Regina Saskatchewan: 1932
IN SIGHT. Edmonton Women's Film and Video Festival,Alberta: 1932
KIJKHUIS WORLD WIDE VIDEO FESTIVAL: Den Haag Nederland: 1932
POWERHOUSE GALLERIE: Montreal. 1932
ENTE AUTONOMO PER LE FIERE DI BOLOGNA, Bologna Italy: Within Dialogue (Silence), Untitled A Tape About Memory, The Greatest Thing
TRADE INITIATIVES: Video In, Vancouver: 1932
PLUG IN GALLERY: Winnipeg, Canada: 1932
RYERSON POLYTECHNICAL INSTITUTE, Toronto: Media Library: 1932
IMAGES 89. Film and Video Festival, Toronto: 1932
NATIONAL GALLERY OF CANADA, Rebel Girls, Ottawa: 1932
VANCOUVER ART GALLERY, Rebel Girls, Vancouver BC: 1932
FEMMES CATHODIQUES. International Womens Video and Television Festival, Centre Audiovisuel Simone De Beauvoir;Palais de Toyoko, Paris: Touring European Selection: 1932
IMAGE FORUM. New Video From Canada, Tokyo: Within Dialogue, Untitled A Tape About Memory
AKA GALLERY, Saskatoon Saskachewan: 1932
LA MOIS DEL LA PHOTO, Montreal Quebec: Untitled-A Tape About Memory
3 VIDEONALE BONN, Bonn Germany: Within Dialogue (Silence)
AURORA BOREALIS CANADIAN VIDEO ART, (travelling exhibition) The Centre of Contemporary Art, Warsaw Poland; Hamburg West Germany: Absence
1988
THE MUSEUM OF MODERN ART, New Canadian Narratives, New York: Within Dialogue (Silence)
ED VIDEO, Guelph Ontario: 1932
YYZ GALLERY, New Videotapes, Toronto Ontario: 1932
ROBERT MCLAUGHLIN GALLERY, Oshawa Ontario: Within Dialogue (Silence)
FESTIVAL INTL DU NOUVEAU CINEMA ET DE LA VIDEO MONTREAL. Montreal Quebec: 1932
HARA MUSEUM OF CONTEMPORARY ART, Tokyo Japan: The Greatest Thing, Absence
TRINITY SQUARE VIDEO, 7th Annual Video Purchase Screening, Toronto Ontario: 1932
PUBLIC ACCESS, The Lunatic of One Idea (36 Monitor video wall), Mississauga On.: The Greatest Thing
49th PARALLEL, Video Series, New York, USA: Absence
THE NATIONAL GALLERY OF CANADA. Opening Exhbition, Ottawa Canada: Within Dialogue (Silence)
KIJKHUIS WORLD WIDE VIDEO FESTIVAL, Den Haag Nederland: Within Dialogue (Silence)
FESTIVAL DE FILLED DES VUES, Quebec City Quebec: Within Dialogue (Silence)
AURORA BOREALIS CANADIAN VIDEO ART, (travelling exhibition) Museum of Modern Art, Budapest Hungary; Vanha, Helsinki Findland; Canada House of London, London England: Absence
1987
FESTIVAL INTERNAZIONALE CINEMA GIOVANI, Turin Italy: Within Dialogue (Silence)
FESTIVAL INTERNATIONAL DU NOUVEAU CINEMA ET DE LA VIDEO MONTREAL, Montreal Quebec: Within Dialogue (Silence)
12th HONG KONG INTERNATIONAL FILM AND VIDEO FESTIVAL, Hong Kong, China: Absence
KIJKHUIS WORLD WIDE VIDEO FESTIVAL, Den Haag Nederland: Absence
AXE NEO #7. Hull Quebec: Absence
TATE OF THE NORTH, Video Positive, Liverpool England (30 monitor video wall): The Greatest Thing
WOMEN LOOKING: CREATING FEMININE SPACES. Video screenings in conjunction with the Feminism and Art Conference, Toronto Canada: Untitled A Tape About Memory
1986
MONTBELIARD 3RD INTERNATIONAL VIDEO AND TELEVISION FESTIVAL. Montbeliard, France: Absence, Untitled A Tape About Memory,Phases
2nd VIDEONALE BONN, Bonn Germany: Absence
2ND INTERNATIONAL VIDEO WEEK, Geneva Switzerland: Absence
Video Festival, Medellin Columbia South America: Absence
SAW INTERNATIONAL FESTIVAL OF VIDEO ART, (travelling exhibition) Toronto, Halifax, London, Winnipeg, Calgary, Victoria: Absence, Untitled A Tape About Memory, Phases
FESTIVAL INTERNATIONAL DU NOUVEAU CINEMA ET DE LA VIDEO MONTREAL. Absence
TORONTO MONTREAL TAPE EXCHANGE, Montreal Quebec: Absence
ARC Gallery, Toronto Ontario: Absence, Untitled-A Tape About Memory
AMERICAN CENTER. Selection Canada, Paris: France: Absence, Untitled A Tape About Memory, Phases
II FESTIVAL NACIONAL VIDEO. Madrid Spain: Absence
FESTIVAL INTERNATIONAL DU NOUVEAU CINEMA ET VIDEO DE MONTREAL: Untitled-A Tape About Memory
Distribution contacts:
Vtape
401 Richmond St, Suite 452
Toronto, Ontario, Canada M5V 3A8
Tel: 416-351-1317
Fax: 416-351-1509
Email: info@vtape.org
www.vtape.org
Canadian Filmmakers Distribution Centre
401Richmond St. W., Suite #245
Toronto, Ontario, Canada M5V 3A8
Tel: 416-588-0725
Fax: 416-588-7956
Email: director@cfmdc.org
www.cfmdc.org/